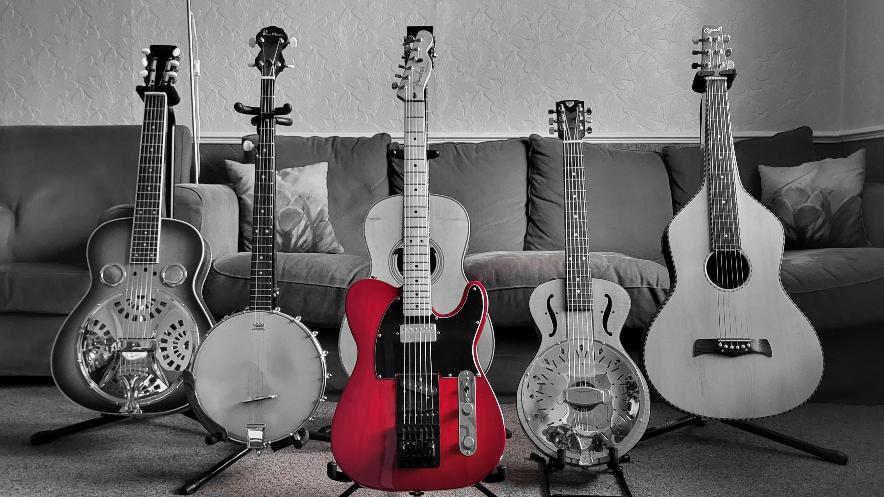 Pete Woodman Acoustic
Custom-made with Cedar Top, Tazmanian Blackwood Back & Sides, Mahogany Neck, andEbony Fingerboard.
Fitted with a Fishman Rare Earth pickup running through a Fishman Platinum DI for live work.
For more info, visit: www.petewoodmanguitars.com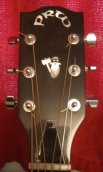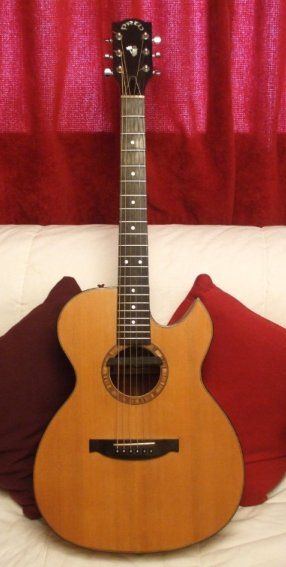 Pete Woodman Highwayman Travel Resonator
Usually tuned to: D G D G B D
Fitted with a Schatten bug
For more info, visit: www.petewoodmanguitars.com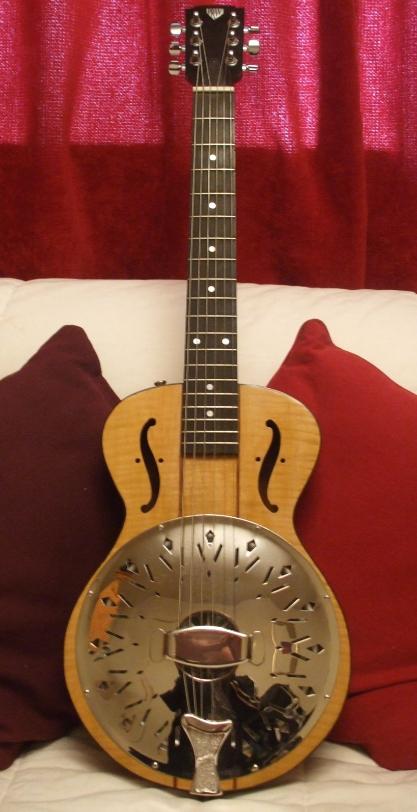 Master Works Dulciforte Hammer Dulcimer
Custom-made for me by Russell Cooke and his team at Master Works in Oklahoma, this 5 octave chromatic hammer dulcimer is an absolute dream come true.
I play this regularly on my weekly live stream shows on Twitch, as well as on sessions such as The Old Chapel EP for Philippa Hanna: https://youtu.be/itzHLhEGci4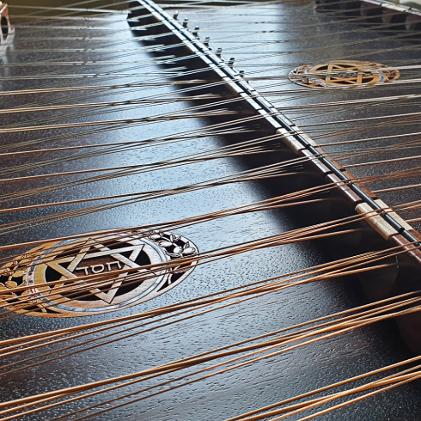 Resound Squareneck Resonator
Resound was a line of Chinese resonators imported into the UK and then upgraded (very well). It has a Dobro-style spider bridge.
This is tuned : G B D G B D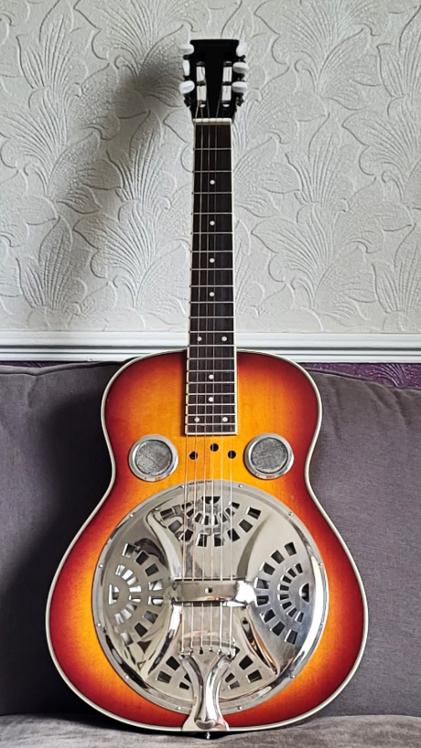 Recording King Parlour Guitar
My workhorse acoustic, these guitars, recreating early Martin designs, are exceptional value for money. Parlour guitars are small-bodied, with a wider neck, which makes them great fingerstyle guitars.
This is fitted with a Fishman Rare Earth pickup system.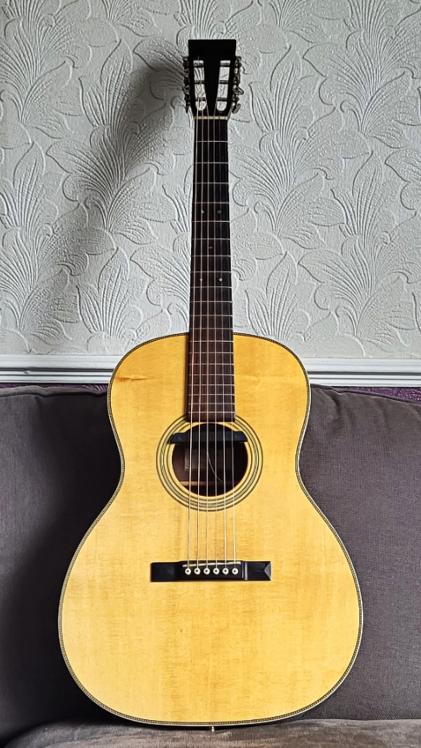 Ozark Weissenborn Guitar
Another in my "good value for money" collection, Weissenborn style instruments have a hollow square neck, so the whole thing is very resonant.
I tune this to: D A D F# A D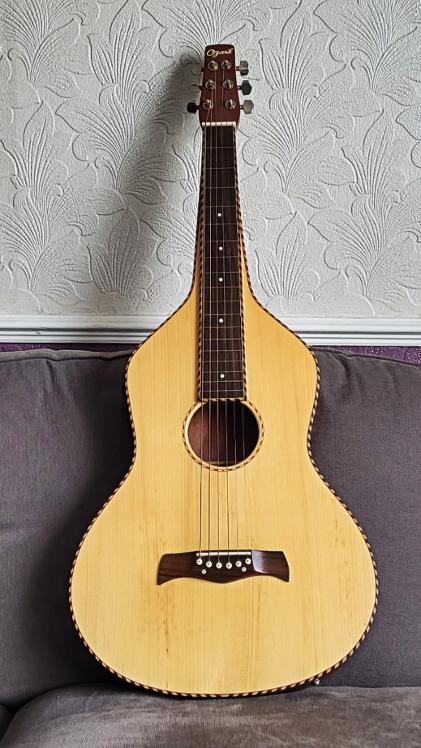 Blue Moon 5 string Banjo
This budget 5 string banjo was upgraded by my Dad, covering the metal arm rest with mahogany and installing a Schatten bug pickup.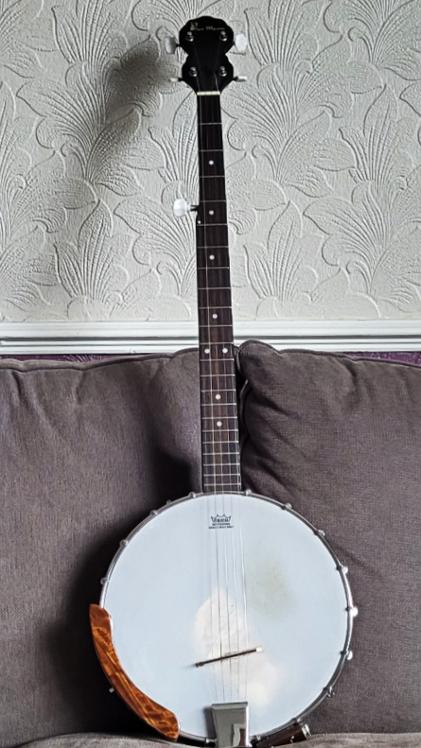 Fender Telecaster (Mexican)
My main electric guitar.
PAF Humbucker at neck position.
Hipshot Trilogy Bridge allows for quick tuning changes from standard to various open tunings.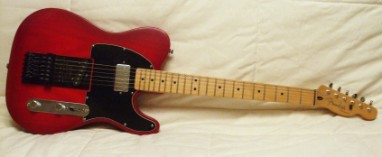 Fernandes "The Revival" S style guitar
My first electric guitar, bought by my Dad when I was 16.
Rosewood Fingerboard
Upgraded with a Fender TBX tone control, Hipshot Tremsetter and graphite saddles.
This guitar was stolen from me and thankfully recovered by the police, but not before it had been dismantled and covered in paint stripper to remove the original red wine finish and headstock logos. It was re-finished for me by luthier Brian Eastwood.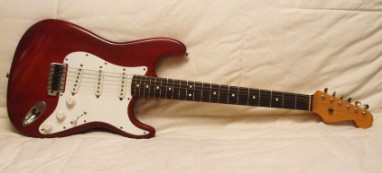 Yamaha SE812
Fitted with Seymour Duncan Cool Rails Pickups at Neck & Middle.
Floyd Rose Bridge.
Esteve 3ECE Electro-Classical
Solid Cedar top.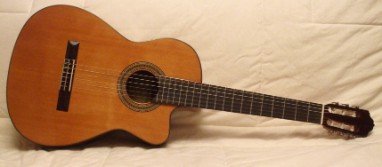 Fenix Bass
Precision copy with extra Jazz-style pickup, fitted with a Warmoth Neck with an Ebony Fretless board.